This year's PgDay SF will be held at the Swedish American Hall located at 2174 Market St, San Francisco, CA 94114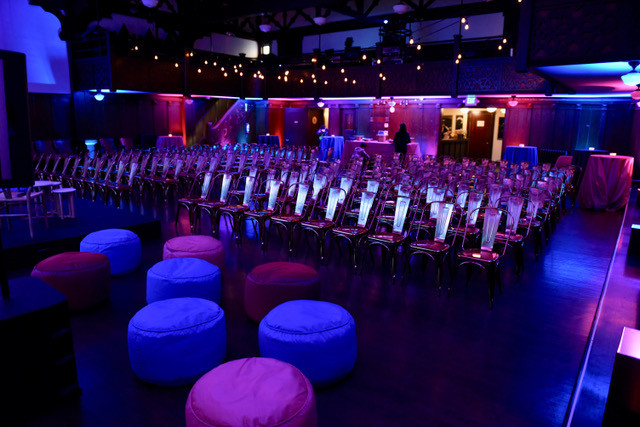 The Hall is a registered historic landmark, built in 1907 by architect August Nordin for the Swedish Society of San Francisco. The building holds three individual halls of beautiful Arts+Crafts style architecture, with intricate woodwork, and we'll have the entire building for our event!
See our Inclusion page for information about the facilities available at the venue.
Hotels
The closest hotels are a five minute streetcar ride (or 27 minute walk) from the venue:
Hotel Whitcomb: Straight from San Francisco's classic history, The Whitcomb is a turn of the century building with extensively preserved decor and all modern conveniences.
The BEI Hotel: The property has been completely refurbished with a modern sensibility and feel.
Both hotels offer custom rates for AAA members, and special package deals as well.
Getting There
We strongly encourage everyone to take public transporation, a taxi, or a ride service. Parking is scarce and expensive (see Parking section below), so if at all possible, choose a different transportation option.
Public Transportation
Muni Underground:
The following underground lines all stop at Church Street Station, which is at Market and Sanchez, one block from the venue:
J Church
KT: K Ingleside/T Third Street
L Taraval
M Ocean View
N Judah
Muni Overground:
The Historic F Streetcar line stops one block from the venue.
View Muni Schedule Get Muni App
Bus lines
The following bus lines also run near the venue:
6 Haight/Parnassus
7 Haight/Noriega
22 Fillmore
24 Divisadero
33 Ashbury/18th
35 Eureka
37 Corbett
48 Quintara/24th Street
BART
If you are coming into San Francisco on BART, you can exit BART at the San Francisco Civic Center station and transfer to any of the Muni underground lines listed above to complete your trip to the venue.
View BART Schedule Get BART App
From the Airport
The Swedish American hall is 13 miles from the San Francisco International airport. The best ways to get there are via BART and streetcar, a taxi, or a ride share service. If you must drive, it takes approximately 25 minutes without traffic.
Taxi Apps
Get Flywheel App Get Yellow Cab App
Parking
There is street parking all around the venue. Meters are available along Market Street, which take coins, as well as debit, credit, and parking cards. Surrounding neighborhoods have street parking as well. Read all signs before you park; both the metered and street parking have a two to four hour limit.
The nearest public parking is at the 1455 Market Street Garage. The entrance is actually at 43 Eleventh Street, San Francisco, CA 94103. The garage is open 6:00 AM to 10:00 PM on the day of the event. There is a $17 early bird rate if you enter by 8:00 AM; otherwise, the daily fee is $26. You can reserve a spot and prepay the parking through Spot Hero.